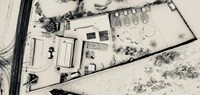 Landscaping
---
Consider completing your pool and or spa installation with landscape works.
Alpine can discuss your landscaping ideas and implement them with our reliable partner company Earth Aspects Landscaping.
---
This is easily done as an extension of the construction of your pool and can be quoted and implemented by our partner company Earth Aspects Landscaping.
The advantage to you as the client is you will receive a continuance of construction as all works are project managed and scheduled seamlessly ensuring a consistent level of expertise, professional and personal attention throughout the complete project.

Complete the whole picture around your pool. Alpine can help with
Paving, Water features, Garden beds and Retaining walls, the lot!
Pool fencing
To comply with law, any pool or spa needs to be fully enclosed with fencing that meets Australian Standards. Alpine will be happy to co-ordinate this with you and have a large range of options and suppliers to suit. We have a beautiful range or practical, safe and compliant pool fencing to suit your taste and budget, including glass timber or metal in a range of colours.
Remember: By law all pools and spas need to be fully
fenced to Australian Standards.
Rainwater tanks
We all know the need to conserve water. Make sure you have it when you need it. You can continue to water your lawns, gardens, top up your pool, wash your car even when everyone else can't due to water restrictions. We provide and can install all sizes and colors in watertanks.